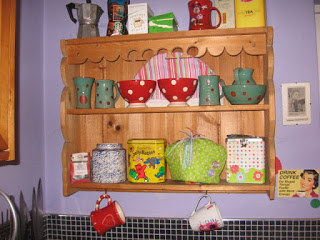 The most fabulous fabric arrived into the
Crafty Alley Shop
this week, so today my sewing machine was brought out from the cupboard under the stairs (cobwebs and all! that particular cupboard is kept for things rarely used…) and i made a tea cosy for my small tea pot.
It was made very simply and only took about 15 minutes, so now i'm wondering what else i can make before the sewing goes back into the depths…
I'm going to put the kettle on now, you're welcome to join me for a cup of Mint & Chilli tea!