Once upon a time when there was no more space in my house and everyone was sick of having to climb over the piles of crafting stash, it was decided… "We will build a room!"
There was a small patio area at the back of the sitting room that was hardly ever used, it was where the basket ball hoop and the dustbins lived. We did a lot of research and price costings, saved up, organised a building party (this consisted of Tim, Joe, Christy, and another Tim who worked their behinds off every cold, wet Saturday and were happy to do it for homemade soup and cake – they are really great friends!!)
So, this was the day, way back last October when the base was laid……..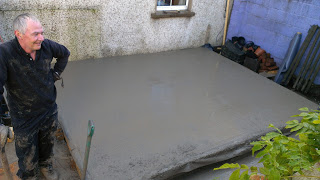 A timber structure went up….
It was clad and roofed and insulated, seriously insulated! That window was taken out and the hole made into a door way from the sitting room, and then the window was replaced into the new wall.
there is that insulation I was telling you about.
The roof has two Velux windows to let in lots of light.
So, all of that took from October to February, it was slow but steady progress (the weather didn't help much!) Eventually we had a plasterer come and finish the inside, he and the roofer were the only tradesmen we had to hire (I know i've said this before, but Tim can fix everything!!) Then we had to wait for that to dry out before we could paint the walls and lay the floor.
I chose white for the walls and ceiling to reflect as much light as possible, the room is 8x10ft which strangely looks bigger finished then when it was being built!
Finally, at the beginning of this month the planning for furniture was done and we took off to Ikea (again-my house is starting to look like an advert for them!)
A friend of mine had given me an old dining table that she was throwing out – I wanted two desks one for the computer and one for crafting on, so I had it cut in half length ways. This gave me long thin desks with only two legs each, but painted them and Tim fixed them to the wall so they are perfect!
When the new furniture was put together I started the long job of moving in….. It took a full week between going to work and sorting through every box and drawer but here it is, the finished craft room!
I am extremely grateful and happy to have this space, Its my birthday next month and Tim asked me what I wanted, I think all the work he has done here will cover birthdays and Christmas gifts forever!!
This is the view when you open the door, I will do a video to show you more detail one of these days!
My brother made this dresser for me, its perfect for a sewing table.
This is the work desk, it looks out onto the deck.
This is the other half of the table, Toby thinks the spotty chair is his!
And this is the other wall, I wanted a high counter for die cutting, so this unit was perfect.
Thats it – you are all very welcome to come over and craft with me now I have space!
Felicia xx