Hello,
Where did the week go? Its been really busy round here, which is a good thing, it would be worse if I had nothing to do!
The tiny extension for my craft room has begun…. the cement base has been laid and the paths around it reconstructed, there is a huge pile of materials ready to start building tomorrow, I can't wait for it to be done but i'm not looking forward to the dust when the wall is taken down!
Next Friday November 2nd (November?!) I will be at the RDS in Dublin where Kate from Create with Kate has a stand, I will be doing a demo of a mini book using some of her beautiful papers, rumour has it she will have not one, not two, but 45 new paper lines at the show!!!!!! oh dear, and I was doing so well with my paper addiction….
What else? well, there are two more classes planned one in Killarney on Sunday 11th November and one in Dungarvan on December 1st. All the details are on the Facebook page so you can check it there or send me a message if you're interested. If you're in Kerry the Killarney class is being held in "Just Desserts" in Market lane, they have the most delicious cakes and lots are gluten free, there will be more then one coffee break that day!
And then, we have the annual Killarney Art & Wine night, its usually on a Thursday but this year its Saturday 24th November, this is a great night, its €20 for a ticket and there are dozens of artists displaying work. Each year four local charities are chosen and 30% of any art sold on the night is donated to them…….. its hugely successful, which might be because there are about a dozen wine shops that give out free (yes, free) wine all night!
Anyhoo, i'm painting away for that and here is the first of a new series i'm doing~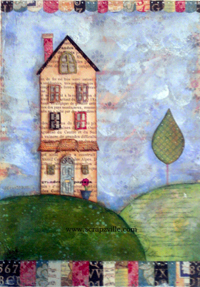 There are also two Christmas fairs coming up, one is the day after the Art & Wine night so i'd better have some restraint at the wine counter! and the other is in December, so there is lots to be made for those and don't forget the next issue of Crafting Ireland is out on November 12th, thats Christmas themed too.
But for now its Friday evening, dinner is cooking and we can all relax. Next week is half term so everyone is very pleased about that.
Have a lovely weekend and half term,
F xx
p.s. I forget to get the Halloween decorations out of the attic, so i'll relax after that!