I have four craft fairs and one art show to do between now and the end of November – 'tis the season after all!
I've been like a little elf in santas workshop making all kinds of pretties, there are notebooks and keyrings, cushions, prints, new framed prints, cards and the like.
I am not very disciplined though, I make two of something and then I want to do something else ( i've started to set goals for myself otherwise nothing would ever get finished!) I'm sure it would be more productive if I just made keyrings today and cushions tomorrow but I end of doing a bit of everything everyday!
Recently I got a notion to paint something, and here it is…………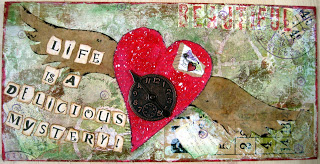 I love the sentiment – you never know whats in store for you, "Life is a delicious mystery!!"
I'm going to be putting this up for sale in my Etsy shop…. there are so many things to go onto the Etsy, I will have to schedule a morning to do nothing else!
Anyway I hope you like it, and I hope your day is delicious!!