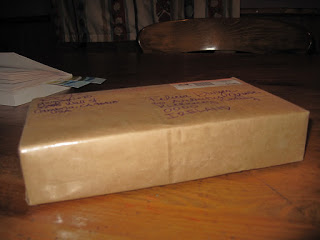 Here is the previously mentioned brown paper package……….
Lots of nice things happened today, I had a book voucher left over from Christmas and got "The Elegence of the Hedgehog", and Zac made a cake!
See that little box with the ribbon? thats what was inside the larger box………
Look how pretty it is!!!!
And THIS is what was inside of that! not the best picture i'm afraid ~ for the full effect have a look at Gwynnies site at " The Lucy".
Today was pretty good for a Tuesday, so now i'm going to eat cake with Zac and read my book whilst gazing at my necklace!
I hope you had a great day too,
Felicia xxx